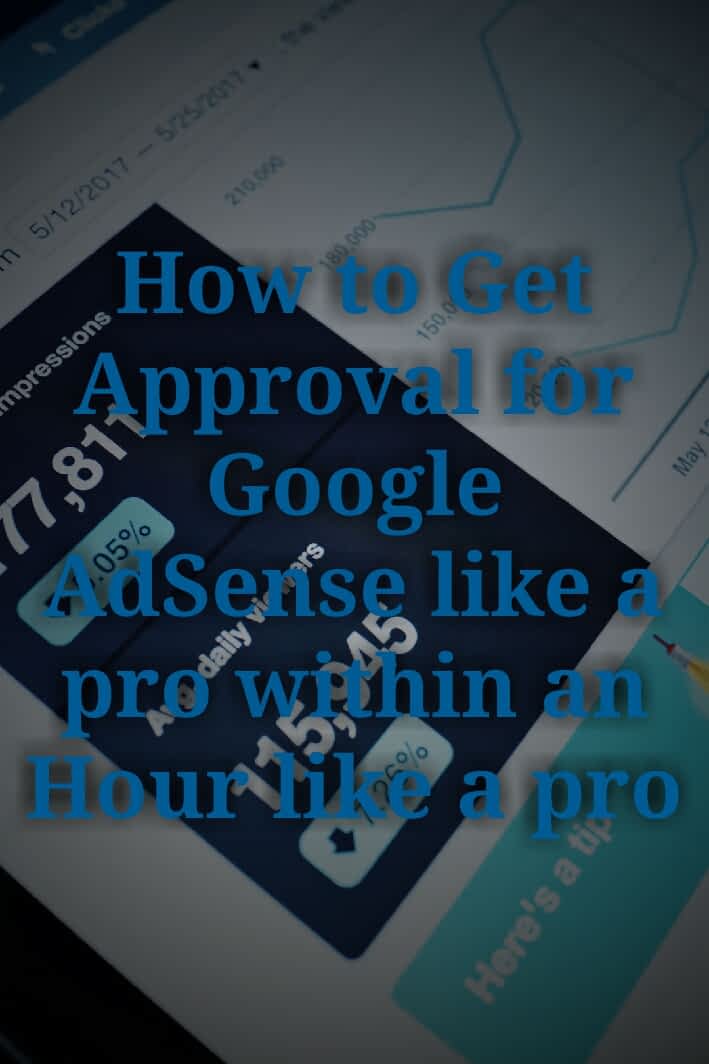 Questioning yourself; how to get google adsense approval in 1 minute?
Then you are in right place, you will get complete information about it. Basically people get confuse
So Remember; GOOGLE ADSENSE = EARNING
"Google ad-sense is a platform where Google pay for the user for their ads on You-tube videos, apps or blog. It is the best thing happen on internet, Thanks to it, many people are now working full time from their couch and earning happily" But getting approval for ad-sense is an another milestone many people get reject for their account and get discourage. Secondly, Google adsense provide two type of account; Hosted and Non-hosted Hosted adsense account  for Youtubers and blogger And Non-hosted adsense If you are applying for WordPress blog/website.
Must have things on your website to get eligible for "How to add google ads to my website "
You must have at-least 10 blog post with two or more blog of more than 1000 words each.
Decent traffic although; it doesn't matter if your blog post are of high quality.
No copyright issue; included for images too.
You blog niche should not be one, that violet google ad-sense policy.
No spin articles.
Privacy policy.
Disclaimer.
Contact info.
At-least few months old domain; Quality domain with dotcom dotnet are more preferred
Readability; Your blog must be readability to the users
After You set-up everything in your blog/website Go to googleadsense.com and sign up for it with your domain name.
If you fulfill all the above things your sure will get approved instantly
Now the waiting part!
Wait for the reply, from google adsense,
Bad News
if you doesn't get approved, they will tell you the reason, which is not specific though. Read the mail, and get understand, what you need to fix it, and submit again. There is no issue with applying again and again, but the things is they will not accept unless you comply with the google adsense policy.
Good News
If you get accepted to Google Adsense, start working on it. If you are not familiar with it Login to your Google Adsense See the Dashboard Click on the ads > and click auto ads [
recommended to new users
] Copy the code Open Blog's [DASHBOARD] Click appearance  > Editor > Html > paste code there.
BONUS ! BONUS!
If you are applying as a You-tuber, following this should be fulfill before even thing of applying for Google Ad
Must have 1000 subscriber (new changes)
10,000 views on your channel videos (including all videos
4000 minutes watch on your youtube channel.
No copyright issue, if you get few copyright issue, your account  could get banned forever
No forbidden niche by google adsense
If you have any Query, feel free to  comment on the Blog, will reply every comment
We are sorry that this post was not useful for you!
Let us improve this post!
Tell us how we can improve this post?