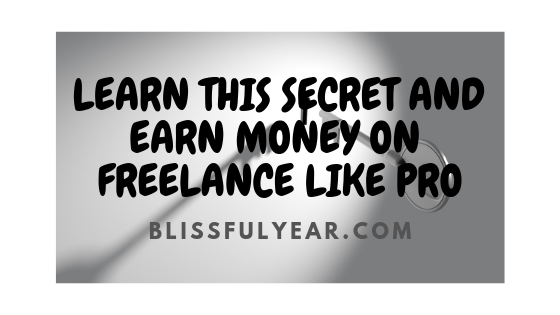 How to Make Money Freelance writing in 2019?
In the
Previous post
, I have shared how you can earn money online by becoming a freelancer. Through this article, you will learn how to, make money freelance writing from one of the popular freelancing site Truelancer. Now that, we are well-versed with the latest trend changing the global world, we need to explore our skills that can be used to earn income.You just require a certain set of skills to start earning. You need to know your skills before you could start earning as a freelancer. Once you have figured it out, start exploring the top freelancing websites. For beginning, you can start with one of the easiest and simple websites, Truelancer.

Truelancer
is one of the most popular websites for freelancing. Currently, being the most popular freelancing website in India, The website has a number of skilled freelancers working in the categories like web design and development, computer programming, data entry, digital marketing, graphics designing and multimedia,content writing, and many more. The neatly designed processes of the website are helpful for both the freelancers and the clients.
How does it work?
Truelancer
website is designed professionally to gather both freelancers, who are looking forward, and the clients who can spend money to get things done by a professional. You might worry about paying for the registration process.
To your surprise, it is absolutely free to register and work on the website
. It will only charge you 10% of your earnings you get from working on the website, as a fee. If you want to be a part of one of the largest freelancing community, you only need a Gmail account and your bank account to link with your Truelancer account, as the website provides an option to transfer the money directly to your bank account.
Steps to register:
Open Truelancerwebsite by following the link: https://www.truelancer.com/signup.
This will take you to signup page of the website. You can Sign Up with Facebook, Google or even with LinkedIn accounts.You can also register by filling up your basic details and your email ID.
Go through the verification process by following instructions.
Complete your profile by adding your skills and expertise on the website so that the clients can get to know you better.
So real question arise, how to make money freelance writing?
Once you have set up your
Truelancer
profile successfully, you can either search for jobs or post a project for others. This can be easily done by navigating the menu bar of the site. The structure of the site is maintained easiest for everyone. Latest projects keep on updating in middle section. As you are looking forward to earning, you will need to browse jobs under Find Jobs. A list of all latest projects will appear in front of you.  You need to add your skill set in your profile. This will make easy for the buyer to know about you and your work experience. Once you update your profile, you can send proposals on various projects that suit your interest and capabilities. Buyer will study your proposal and will discuss with you the further details of the project. If the settlement continues with you and buyer,he will assign the task. You need to give your best within the time slot allotted to you by the buyer. Once it is done and the buyer accepts it. He will release your payment. You and the client will be asked to provide feedback to each other, which will be helpful for you both in building the reputation in the website. Now, the amount will be shown in your Truelancer wallet. You can transfer the amount to your bank account directly. Even, you can use your Paypal and Payoneer accounts to withdraw the amount. Some of the samples of people earning on the websites are shown here. This will let you know how much one can earn through such sites.
these simple projects will increase your make money freelance writing which will be standby income and will also enhance your skills and your career growth will touch new heights. Stay Happy, Continue Biding!
We are sorry that this post was not useful for you!
Let us improve this post!
Tell us how we can improve this post?