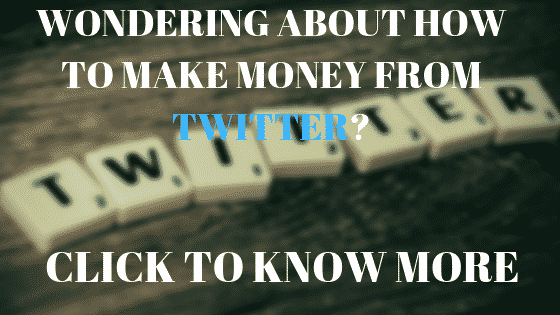 Do you want to know how to make money from twitter? First twitter is a key social media avenue that allows users to share and express their thoughts. This platform allows ordinary people to earn money through use of common and easy ways, making money on twitter needs one to have an account and have followers. Twitter has many opportunities that one can use to create or generate income without necessary being a celebrity. In-fact many people have become successful through use of twitter as a means of generating income, all that one needs is application of creativity and desire to carry it out.

Different Ways of how to make money from twitter
Selling products on twitter
Selling products on twitter seems like odd but businesses forget that people don't buy products if they don't see a call to action, on twitter this is most strategic way to earn through use of promotionsand discount to spur spending .Many businesses make deals with people through marketing practices that fit twitter well, one needs not to overwhelm twitter feeds with pushy selling.
Produce own twitter related services
One can produce products that one can sell to followers and audience on twitter and make money, this related services include sharing products like App that enables users to let them generate things like hashtags that attract followers on twitter. For this to be successful one needs to have a good flock of followers and good twitter presence to enable alternatively one can use websites like freelancing sites to build ones twitter presence.
Use of YouTube can be used to make money through use of twitter expertise. If one can create videos with twitter tutorials that people are searching for on YouTube, plenty of money can be generated from use of YouTube by people viewing and watching those tutorials on YouTube
Holding a twitter contest
Holding a contest on a twitter can enable one to make money as many people engages effectively through award of a prize .This can be used by linking businesses which want publicity on a twitter contest and get paid for that and make money.
Sponsored tweets can be used generate money on twitter, one can find businesses that will pay one to tweet about their products for a fee that you charge them.
Crowdsourcing is the practice of bringing ideas and contributions from a group of people, in many years it has been a marketing platform especially on twitter, one can use crowdsourcing to make money from followers who can fund up an idea if this is done correctly
In conclusion making money from twitter is real through use of different ways, as stated above many different ways can be used to generate money which includes: selling of products on twitter, use of YouTube through posting of videos with twitter related learning materials, use of sponsored tweets and use of crowd sourcing to make money on twitter .for one to generate a plenty of money one needs to use them and refer to successful cases of people who have used this before.
We are sorry that this post was not useful for you!
Let us improve this post!
Tell us how we can improve this post?