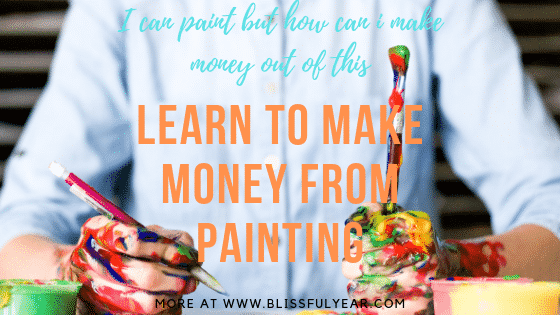 Did you know how to make money painting and supplement your sources of income?
The final work from applying color on a solid surface using a brush or other implements such as sponge is what is referred to as painting.
More often people are discouraged that they cannot make a viable career out of their passion but some people are making a good living by selling their art
many people have made painting a viable career option and are generating income from painting
Differents Ways of how to make money from painting
Seeking commissions for original work
Commissions are a popular strategy that many beginning people can use to make money both online and offline.
The best place to start is showcasing your own work on your social media and do not forget to mention in your bio that you accept commissions.
With any luck, your first customers will spread the news and your next clients will approach you themselves.
Instagram has become number one social media platform for artists and art lovers and this is an advantage to the beginning people who want to make money from painting because they can connect with buyers across the globe willing to pay for your work.
It all depends on how many followers you have and therefore the more the popular your Instagram account the higher the demand of your art.
When selling art on Instagram make sure you post high quality images, use hashtags that correspond to key words representing your art, post on regular basis at least thrice per week
and finally ensure you write an attractive bio because it is the only place where followers can click on a link.
I had already mention another amazing ways of making money from twitter you can learn more about it by clicking here
Take internships (how to make money painting)
For people who want to make money from painting it is useful for them to think about how they will make money and one of the easiest way to create connections in the art world is to take part in internships,
as you get to work alongside established artists and representatives. Internships will give you a chance to work behind the scenes of art selling, which can teach you about how to market your own art.
Teach online classes (how to make money painting)
As an individual you may want to consider teaching online classes because many aspiring people who are looking for knowledgeable teachers in the creative world to help them take their work to a new level. Through this you may even turn your teaching into full time work, launching paid membership's services where people can have access to private tutorials.
Offering tutorial videos
As an individual ,if you have already have a built an audience who trust you through blogging and following you on social media platforms
you can start selling them tutorial videos on YouTube and available platforms which will generate money.
In conclusion many people believe that in order to make money you must sell your work directly
but as we have seen there are other methods of making money starting from instagram, seeking commissions for original work, internships, online classes and offering tutorial videos.
If as an artist you are not able to decide about how much to charge on your art, you may start by finding people who are on a similar skill level and see what they charge.
We are sorry that this post was not useful for you!
Let us improve this post!
Tell us how we can improve this post?